Often the world of technology requires creative solutions.
"Blending creativity and technology to bring your vision to life."
Investing in web development is a critical step in establishing a strong online presence and reaching a wider audience. With a well-designed and user-friendly website, businesses can enhance their brand image, engage with customers, and drive growth and revenue. Our solutions are cost effective.
We have an extensive design portfolio that encompasses various business types and categories. Our focus is on producing modern and clean designs for digital and print marketing materials that effectively capture your message and resonate with your audience.
Graphic design is an essential aspect of creating a strong brand identity and conveying your message effectively to your target audience. With professional and visually appealing designs, businesses can establish credibility, increase brand recognition, and stand out in a crowded market.
Our professional equipment and experienced team ensure high-quality production that meets your unique needs and captures the essence of your brand or event. Focus on what really matters - delivering an engaging and memorable experience for your audience.
See our latest creative projects and portfolio. We look forward to creating inspired media for your business.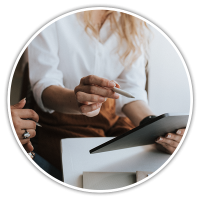 Social media marketing is a powerful tool for reaching a vast and engaged audience, building brand awareness, and increasing customer engagement. By leveraging the latest social media platforms, strategies, and analytics, our team can help your business grow its online presence.
Live Streaming & Engineering
Reach a broader audience and create an immersive experience that engages and captivates viewers. With our professional equipment, experienced technicians, and customized solutions, we can help you produce high-quality live streams that deliver your message to a global audience.
A professionally designed presentation can make all the difference in delivering a compelling and memorable message to your audience. Our team of skilled designers can help you create visually stunning and engaging presentations that capture your audience's attention.
Podcast Production & Editing
Podcasts are a powerful and growing medium for engaging with audiences and building a loyal following. With our expert podcast production services, you can produce high-quality content that entertains, educates, and inspires your audience while building your brand and expanding your reach.
Hire Vortex and you deploy a team.
With our longstanding service principle, you can hire a team that boasts of diverse expertise and experience. Our extensive list of services enables our team members to provide solutions for a broad range of technologies, making us a one-stop-shop provider.
You only pay when we are needed and we work to setup remote solutions to decrease downtime and expenses.
We offer a wide variety of services and knowledge that allows you to use one vendor for all technology services.
Spend less time just maintaining and use your resources to grow your technology with the peace of mind it will work.